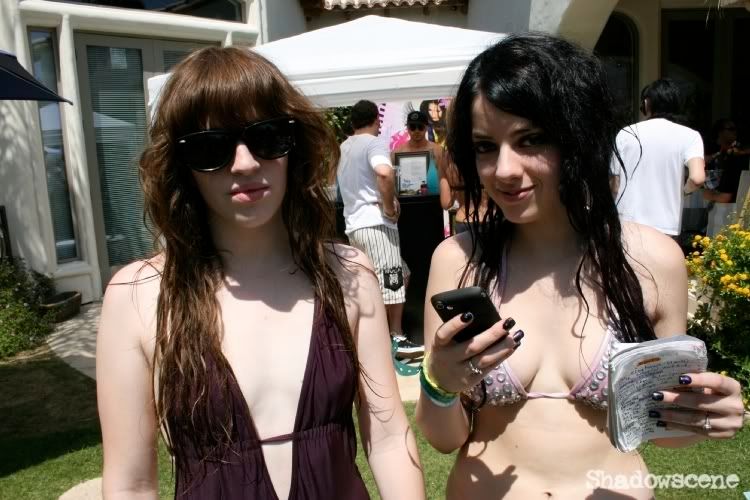 Authorities have declared party partners Kandice Melonakos and Elise Coker officially missing since Sunday, April 27th, where they were last seen cavorting with hot dogs in the VIP section of the Coachella Valley Music and Arts Festival. The disappearance was first reported when the stoked-to-party pair was conspicuously absent from Coachella's T-Mobile soiree and then again from the Jeremy Scott fiesta in Palm Springs. After repeated failure to show up at crucial parties, including 86 last night, alarm bells began to sound in Los Angeles.
"I knew something was wrong when I didn't see them for a week. Shit wouldn't be the same without those two little fluffily bobbing heads," said DJ Chris Holmes, wringing his hands nervously.
When questioned, friends and hipsters reported that the 20-year-old social butterflies, who are reportedly distant cousins, were on their way to yet another bonanza just before disappearing into the night. Although the party-hopping was not unusual, they don't have Blackberries.
"I think they heard about some super underground desert party," says BJ Panda Bear, "and they ditched me! So now they can't use my GPS! But I saw Agyness Deyn tonight," he added.
So what are the chances of survival? Although Coker, who is known for her nomadic lifestyle, is no stranger to roughing it, the same cannot be said for her purple cohort, who relies heavily on the power of magic purple crystals for survival.
A $10,000 reward and four lifetime tickets to Coachella have been offered to any person who can find the remnants of Coker and Melonakos, put up by Prince, who enjoyed their blog.
Totally Radd! has embarked on a quest to find the lost girls, primarily to get free tickets next year. Thus far, nothing has been found except two purple hairs stuck to the Palm Desert exit on the 10 freeway.
Rosa Mercuriadis, who has a plane, will also be participating in the search.